---
Today we're pushing our totally cool new super-hardcore CD called...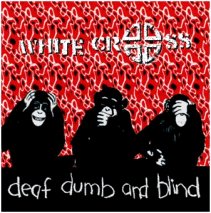 WITH KICK-ASS SONGS!!!
including and limited to...

1. New and Improved
2. Murder Weapon
3. Are You Ready
4. Deaf Dumb and Blind
5. Waiting To Die
6. Rock 'N' Roll -Pt.2
7. More Lies
8. What A Turnout
9. MTV
10. Wimpy Boy

11. Pass The Buck
12. Shaftman
13. Wasted
14. Fly Their Flag
15. Too Much Caffeine
16. Jump Up My Ass Pt.2
17. Same Old Shit
18. Something For Nothing
19. Sell Out
20. Child Abuse

21. I'm Not Listening
22. Wrong Time, Wrong Place
23. You Won't Be Here Tomorrow
24. Pink Flamingos
25. Sex Machine
26. Can't Handle The Load
27. Breznev's Dead
28. Stepping Stone
29. Fascist
30. No Straight Edge

31. Speed Of The Presses
32. American Way Of Life
33. Jump Up My Ass Pt.1
34. Suburbanite
35. Nuke Attack
36. Fucked Up
37. Louie Louie
38. Fed Up
39. James Bond
40. Robot Girls/Robot Boys

41. I Get Depressed

all songs copyright WHITE CROSS 1981-85 except where they're not


---
Songs 1 thru 12 are previously unreleased, and talk about good, this CD is FUCKIN' GREAT !!!
Old School, New School, we'll take you TO school!
Talk about HARDCORE, talk about PUNK, talk about THRASH, talk about SEMINAL.
This is THE FUCKIN' SHIT !!!
You wanna know what punk-rock is? Put this fuckin' CD on and TURN IT UP!
You'll find out real fast what punk-rock is all about!
Not for the weak or faint-hearted.
THIS IS ONE CD YOU
MUST
HAVE !!!
Available at any record store that's worth a fuck !!!
Or get it direct from...
BOMP-GTA
We would like to thank the many people who supported us and helped us make it happen.
Particularly, Tom Zimmerman (hands down, the greatest sound-man in the known universe)
and Joel Reiff for sound and technical assistance.
Thurston Howes III, Cindy Hicks and Rick "Porkrind" Rollins for photos.
And all our fans and friends!

Main
-
Band
-
Label
-
Links
Stupid
-
Dumb